June is, for me, summertime. There's nothing better to do in the heat than layout with an iced beverage and soak up the sun while soaking up a good story.
So far in June I've had a stall-out. If you've been following me on goodreads then you know I have several books on hold. The newest addition to this list is: Dark Eden by Chris Beckett. The writing style and pacing to this novel has really taken its toll. It's an uphill read so I'm going to take a breather and set it aside for a week or two.
I'm still reading The Amber Fury by Natalie Haynes and I plan to finish it this week. So far, I'm loving it! It's got great characters, great suspense, and I'm constantly sliding to the edge of my seat. I need to know what the big 'event' is that the narrator keeps alluding to!
In May I hit a used bookstore and picked up a few reads, I made a rash decision in a grocery store, and then I hit it big in B&N yesterday. I can't be stopped.
Here's what I've acquired and will be soaking up this month:
Target Acquired:  (Books I didn't buy)
The Amber Fury by Natalie Haynes
I won this book from a giveaway hosted by Atlantic Books! I took interest in this book when my favorite heart breaker, Joss Whedon, promoted the book on Tumblr. Joss Whedon and the author, Natalie Haynes, signed the book that I won a copy of. I'm glad I entered because it is a great read so far!
Currently Reading!
Currently Loving!
Goodreads synopsis: When you open up, who will you let in?
When Alex Morris loses her fiancé in dreadful circumstances, she moves from London to Edinburgh to make a break with the past. Alex takes a job at a Pupil Referral Unit, which accepts the students excluded from other schools in the city. These are troubled, difficult kids and Alex is terrified of what she's taken on.
There is one class – a group of five teenagers – who intimidate Alex and every other teacher on The Unit. But with the help of the Greek tragedies she teaches, Alex gradually develops a rapport with them. Finding them enthralled by tales of cruel fate and bloody revenge, she even begins to worry that they are taking her lessons to heart, and that a whole new tragedy is being performed, right in front of her…
Fables, Vol. 4: March of the Wooden Soldiers
I'm lucky enough to have quite the comic collector of a Fiance. He picked these comics up quite a bit ago and now that I've discovered them I can't put em down! I'm on Vol. 4 and I think this may be my favorite volume yet.
Currently Reading!
Currently Loving!
Goodreads Synopsis:Bill Willingham's runaway hit series FABLES continues its success in this fourth trade paperback, collecting issues #19-21 and #23-27 (issue #22 will appear in a future collection) and featuring the rise of a new threat to Fabletown. Also included is the Prestige Format Special Fables: The Last Castle. When Little Red Riding Hood suddenly walks through the gate between this world and the lost Fable Homelands, she's welcomed as a miraculous survivor by nearly everyone – everyone except her old nemesis, Bigby Wolf, who smells spying and subversion more than survival. But will he be able to prove his case before disaster strikes? And how will it all affect Prince Charming's upstart campaign to become the new mayor of Fabletown?
Have you read it? Let me know what you think!
Borrowed from the Government: (Library Books)
The Eyre Affair by Jasper Fforde
I had to pick this book up because of the intriguing title. Jane Eyre is one of my favorite books and I thought that if this book has anything to do with that book then things can only go up from here. Then, a fellow book blogger- Booknerderie (go check her out!) reviewed the book and enjoyed it, so now I know I must read it! It's a comedy and part of a series and I really need a lighthearted read for when I'm out freckling by the pool. (My pale skin does not tan.)
Not yet started
Currently looking forward to it.
Goodreads Synopsis: Welcome to a surreal version of Great Britain, circa 1985, where time travel is routine, cloning is a reality (dodos are the resurrected pet of choice), and literature is taken very, very seriously. England is a virtual police state where an aunt can get lost (literally) in a Wordsworth poem, militant Baconians heckle performances of Hamlet, and forging Byronic verse is a punishable offense. All this is business as usual for Thursday Next, renowned Special Operative in literary detection, until someone begins kidnapping characters from works of literature. When Jane Eyre is plucked from the pages of Brontë's novel, Thursday must track down the villain and enter the novel herself to avert a heinous act of literary homicide.
Have you read it? Let me know what you thought!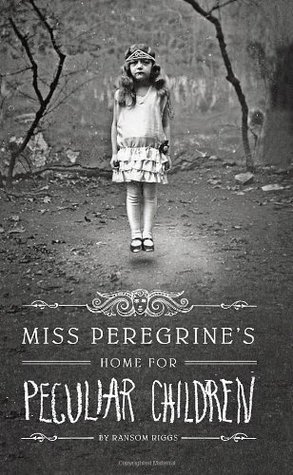 Miss Peregrine's Home for Peculiar Children by Ransom Riggs
Even before this book went big I was interested in it. The cover pulls you in. The creepy photography continues inside. The eerie plot calls for investigation. I want to know what this book is about!
Not yet started
Hopeful!
Goodreads synopsis: It all waits to be discovered in Miss Peregrine's Home for Peculiar Children, an unforgettable novel that mixes fiction and photography in a thrilling reading experience. As our story opens, a horrific family tragedy sets sixteen-year-old Jacob journeying to a remote island off the coast of Wales, where he discovers the crumbling ruins of Miss Peregrine's Home for Peculiar Children. As Jacob explores its abandoned bedrooms and hallways, it becomes clear that the children were more than just peculiar. They may have been dangerous. They may have been quarantined on a deserted island for good reason. And somehow—impossible though it seems—they may still be alive.
Have you read it? Let me know what you think!
Take My Money and Steal My heart: (Books I've bought)
American Gods by Neil Gaiman
Got this book for a steal at the used bookstore! It's obviously loved which makes me think it ought to be good! I've heard people raging about Gaiman's work so it's about time that I investigate for myself.I hope this book lives up to the hype!
Not yet started
Hopeful!
Goodreads synopsis: Locked behind bars for three years, Shadow did his time, quietly waiting for the magic day when he could return to Eagle Point, Indiana. A man no longer scared of what tomorrow might bring, all he wanted was to be with Laura, the wife he deeply loved, and start a new life.
But just days before his release, Laura and Shadow's best friend are killed in an accident. With his life in pieces and nothing to keep him tethered, Shadow accepts a job from a beguiling stranger he meets on the way home, an enigmatic man who calls himself Mr. Wednesday. A trickster and a rogue, Wednesday seems to know more about Shadow than Shadow does himself.
Life as Wednesday's bodyguard, driver, and errand boy is far more interesting and dangerous than Shadow ever imagined—it is a job that takes him on a dark and strange road trip and introduces him to a host of eccentric characters whose fates are mysteriously intertwined with his own.
Have you read it? Let me know what you think!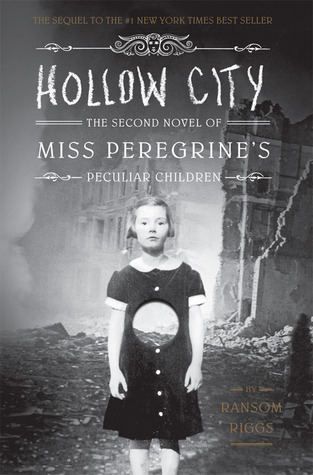 Hollow City (Miss Peregrine's Home for Peculiar Children #2) by Ransom Riggs
I made a rash decision in the grocery store and picked up this book without realizing it was the sequel to MPHPC. *sigh* When I see a book I lose my mind just a little, okay? Besides, it was ten bucks! How could I NOT buy it? The answer is, it was inevitable and you made the right decision. Thanks, I thought so too. Anyway, if I like the first book then I will move onto this next and purchase the first in Hardcover!
Not yet started
Hopeful!
Goodreads Synopsis: The extraordinary journey that began in Miss Peregrine's Home for Peculiar Children continues as Jacob Portman and his newfound friends journey to London the peculiar capital of the world. But in this war-torn city, hideous surprises lurk around every corner. Like its predecessor, this second novel in the Peculiar Children series blends thrilling fantasy with never-before-published vintage photography to create a one-of-a-kind reacting experience.
Have you read it? Let me know what you think!
The Maze Runner by James Dashner
I really hadn't thought much of this book when I saw it on the shelves. I sort of wrote it off as a 'boy' book (granted, I was just out of high school when it originally came out so cut my cruel and stupid judgement some slack here). But, ever since it was announced that it was going to be turned into a movie and stills started coming out for it on Tumblr I have been enthralled. This book sounds like it's right up my ally so I really want to read it. I picked up this book for a whopping $8, but had to settle for the Barnes and Noble Exclusive Edition.
Haven't started
Hopeful!
Goodreads Synopsis: "If you ain't scared, you ain't human." 
When Thomas wakes up in the lift, the only thing he can remember is his name. He's surrounded by strangers–boys whose memories are also gone.
Outside the towering stone walls that surround the Glade is a limitless, ever-changing maze. It's the only way out–and no one's ever made it through alive.
Then a girl arrives. The first girl ever. And the message she delivers is terrifying.
Have you read it? Let me know what you think!
Mr. Mercedes by Stephen King
Long time Stephen King fan here, so I had to pick up his newest book! I especially had to pick it up when I found out B&N had it on sale for 40% off for members. $30 Hardcover New Release? Pssh, I got it for $18. It's a steal for such a promising thrill! I featured this book on my Waiting for Wednesday of last week and I am more than ready to sink my teeth into it. The cover is so creepy! I hope the book delivers.
Haven't Started
Hopeful!
Goodreads Synopsis: In the frigid pre-dawn hours, in a distressed Midwestern city, hundreds of desperate unemployed folks are lined up for a spot at a job fair. Without warning, a lone driver plows through the crowd in a stolen Mercedes, running over the innocent, backing up, and charging again. Eight people are killed; fifteen are wounded. The killer escapes.
In another part of town, months later, a retired cop named Bill Hodges is still haunted by the unsolved crime. When he gets a crazed letter from someone who self-identifies as the "perk" and threatens an even more diabolical attack, Hodges wakes up from his depressed and vacant retirement, hell-bent on preventing another tragedy.
Brady Hartfield lives with his alcoholic mother in the house where he was born. He loved the feel of death under the wheels of the Mercedes, and he wants that rush again.
Only Bill Hodges, with a couple of highly unlikely allies, can apprehend the killer before he strikes again. And they have no time to lose, because Brady's next mission, if it succeeds, will kill or maim thousands.
Is this an ambitious TBR? I think so! Will I get through it all? I'm going to try! I reaaaally want to get through all of these books this month. I think I can do it. I'm just hungry for new tales. Follow me on twitter @bittenanwritten to hear about my progress. Check out my tumblr as well.
Keep reading!
What are you lining up to read this month? Any new goals? Let me know!