I've told you all about my love for Saga and unfortunately I haven't been able to get my hands on the next two volumes, but I have delved back into the world of comics and graphic novels.
This weekend I decided to tackle my fiance's collection of Fables comics.
What a weekend well spent!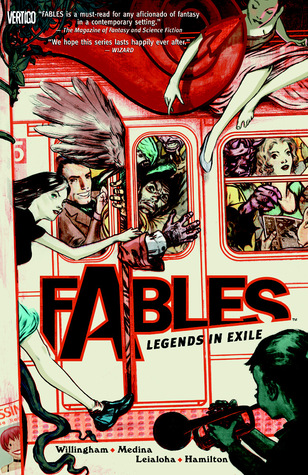 Fables is an ongoing series of comics. I've been reading the collection of comics in volumes so I'm not keeping up with a monthly subscription. This has its pros and cons, but I enjoy having the volume in a nice beautiful book and the complete story laid out in front of me instead of having to wait!
Fables is a beautifully drawn comic and the first volume goes a little something like this:
When a savage creature known only as the Adversary conquered the fabled lands of legends and fairy tales, all of the infamous inhabitants of folklore were forced into exile. Disguised among the normal citizens of modern-day New York, these magical characters have created their own peaceful and secret society within an exclusive luxury apartment building called Fabletown. But when Snow White's party-girl sister, Rose Red, is apparently murdered, it is up to Fabletown's sheriff, a reformed and pardoned Big Bad Wolf (Bigby Wolf), to determine if the killer is Bluebeard, Rose's ex-lover and notorious wife killer, or Jack, her current live-in boyfriend and former beanstalk-climber. (Goodreads)
First off, this comic is beautiful. It doesn't have a lot of vibrant colors like Saga or the superhero comics that I'm used to, but everything is so very detailed. My favorite thing to do is read the entire volume for the story and then go back to some of the large, two paged spreads or full paged panels to find all the little pieces that comprise it. Some of the more intricate scenes are set in Snow White's (The Deputy Mayor of Fabletown) office. In Fabletown rooms are much larger on the inside and her office is complete with a giant tree growing inside it. There is so much to look at and pick up on that this comic definitely warrants a reread.
The characters are creatively reinvented. As the synopsis explained, the fairy tales have been invaded by a mysterious source known as the Adversary. In the first comic this Adversary isn't really the main focus, but you do get a nice back story in the back of the volume. The fables come to our world to escape it. As they've lived hundreds of years among us they have more or less reinvented themselves, changed their ways, to fit into our society and live amongst each other in peace.
The Big Bad Wolf is known as Bigby Wolf, sheriff of Fabletown. His snark and anger management issues are always entertaining.
Snow White is sharp as a whip, mean when she wants to be, but a little too easy to tear up and very much lost in the fog when it comes to solving mysteries.
Rose Red, well, I won't spoil anything there.
Jack the bean stalk not only climbed a bean stalk, but he wants to climb the social ladder as well.
Prince Charming isn't so good at happily ever after.
Colin Pig of the infamous three little pigs won't let Bigby forget he tried to blow his house down and there are so many other characters that will have you laughing or wrinkling your nose a bit in disgust.
Think Grimm's fairy tales meet the television show Revenge. Fables is about right on that scale of drama, surprising twists, and in depth characters. The comic is dark, graphic, and oddly humorous.
This first volume is a lot of exposition. The mystery is used to introduce a lot of characters, their pasts, and the settings that most of the comics will take place in. I think my only complaint about this first novel would be about just how much dialog there is here. Sometimes I was a little disappointed with how much Bigby had to explain. Other than that, I thought the comic was hugely creative and very entertaining.
I've enjoyed it so much that I'm already on the third volume. I can't wait to review the second. As far as I know I think there are something like 19 complete volumes out! Then there's a whole side comic called Fairest that is about the Princesses of Fabletown. I want to get my hands on those as well. There are so many characters that have been well thought out in this story that Willingham could keep himself working on these comics for a lifetime if he wanted to. So far that seems to be just about what he's done and intends to do. I'm not complaining! I love it.
Check out Fables: here
Check out Bill Willingham: here