Genre: Fantasy, Adult Fiction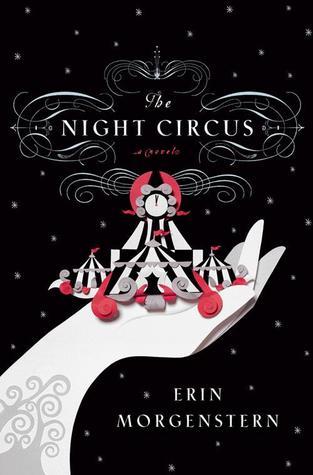 Rating: 5/5
What did I know about The Night Circus before I jumped into it? Little to nothing.
I knew the prolific first line: "The Circus arrives without warning." I knew it was a circus…at night. I knew this would involve some sort of magic.
I had no idea how blown my mind would become.
The Night Circus is set in the mid to late 1800's to early 1900's in varying locations as the Circus travels. The first real setting is London, England and that sort of remains as the home base of the plot. This is, of course, a fantasy setting but it is more of a setting of our world with a twist. Look just hard enough and anything is possible.
I don't like the Goodreads synopsis so I'll tell you my two cents.
The Night Circus is about two young children (though most of the story takes place when they are adults) plucked from mundane life and thrown into a duel of mystical proportions. Their instructors are without history, without age, and altogether merciless. The goal of their pupils' lives is to win a game of enduring skill. The only thing each instructor is interested in is the outcome. As both opponents grow in skill the 'game board' is set: The Cirque de Reves or the Circus of Dreams. The Circus is completely monochrome. The only life breathed into it is produced from the two circling competitors. As the Circus grows to more unbelievable and breathtaking heights the competitors become drawn to one another's beauty and ingenuity. As enchanting as the circus becomes there must still be one winner. All else will fade away, including those within and enchanted by the circus.
The story of The Night Circus quickly draws you in. Celia Bowen and Marco Alisdair are the main characters of this story. You literally follow the 'birth' of their magical abilities and how they are trained up to alter the fabric of our mundane reality. Celia's father, Hector Bowen is her instructor. He is a callous man with a headstrong teaching philosophy. He presents her with a problem that she must fix. He does not relent until she has done so. She is born with her magic thus she must tame it as she grows. She is a beautiful woman with strong passions and a flare for the dramatic.
Marco Alisdair is a quiet, stoic young man with the temperament of a scholar. He's plucked from an orphanage by Alexander, or the man in grey, and taught through a more traditional tutelage. He reads, travels, and studies all matter of subjects. Marco is a student through and through and his magic comes from the complete understanding of what rules our world appears to abide to and how to break them.
What is the most fun about this book is the characters. There are so many pieces to the puzzle that is the circus. You could fall in love with any number of people. Each person has a gift, a talent, whether they are aware of it or not. They are used like chess pieces wittingly or unwittingly. You find yourself cheering on characters and praying to Erin Morgenstern that she let your darlings live!
As the name The Night Circus implies there is a darkness to this story. Every detail of the story builds just as the Circus continues to build and build upon itself. This story starts with a seed until its branches are far reaching and all encompassing. There were so many moments in this book where I would say aloud 'O man, that's what's going on!' or 'No way!' There's no end to surprises here.
The book and the Circus are beautiful. Morgenstern truly has a gift for imagery. I've never been to England and I've never been to a circus, let alone a magical one. Her descriptions make even the normal reprieves in the novel feel ethereal and draped in warm colors. Everything in this book was detailed and it wasn't in a cumbersome way. I found myself eating up and in awe over every color, material, and landscape she described. If a movie were to be made from this book then no imagination would be required. The detail is laid out for you.
There is one detail to her writing that I have read that people have a problem with.
This story is one that takes several characters' perspectives seperately throughout the story in order to bring them all together in the end. Some may say that the separation of characters and seemingly unrelated parts of the story make reading feel choppy and disorienting. I say, that if you read like you would watch a movie: let everything unfold without trying to jump ahead or guess how it will all come together, then the style builds suspense.
Reading this story is like watching a 1000 piece puzzle come together. You start off with the corner of something, a splash of color, a seemingly useless chip, and soon you can see the edges and forms of a picture coming together. The story is that artfully crafted.
For those of you that have read the book I must say that I love Poppet and Widget. I would love to see their kittens perform. My favorite tent is the Ice Garden. I think I would definitely be one of the fanatics of the circus and wear a red scarf.
I most definitely want to read this story again because this is one of those books that has tiny pieces that you will pick up on with each reread.
I highly recommend this book! Take a vacation without having to leave your house with this one!
Check out The Night Circus: Here
Check out Erin Morgenstern: Here
Follow me on Goodreads: Here
Also, if you haven't had the chance then check out my Rifflebooks account: here
Rifflebooks is a way to explore new books, connect with other readers, and I think it's a much better recommendation site than Goodreads is. It's new so it's ever changing, but the search engine is more responsive and it's not so cluttered- yet. I will be creating lists on my Riffle of Books I want to read this summer, my favorite books, my favorite authors, and some of my favorite books that were turned into movies! So give it a looksie!
Are you gonna check out The Night Circus? Let me know! Thanks for reading!