Genre: Fantasy, Paranormal, Alternate history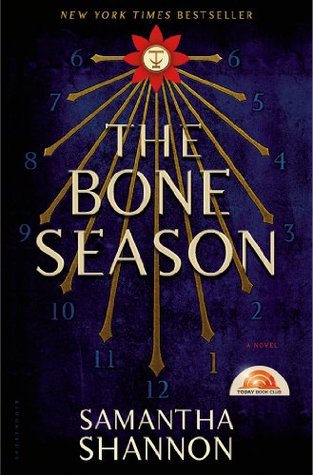 Goodreads Synopsis:
It is the year 2059. Several major world cities are under the control of a security force called Scion. Paige Mahoney works in the criminal underworld of Scion London, part of a secret cell known as the Seven Seals. The work she does is unusual: scouting for information by breaking into others' minds. Paige is a dreamwalker, a rare kind of clairvoyant, and in this world, the voyants commit treason simply by breathing.
But when Paige is captured and arrested, she encounters a power more sinister even than Scion. The voyant prison is a separate city—Oxford, erased from the map two centuries ago and now controlled by a powerful, otherworldly race. These creatures, the Rephaim, value the voyants highly—as soldiers in their army.
Paige is assigned to a Rephaite keeper, Warden, who will be in charge of her care and training. He is her master. Her natural enemy. But if she wants to regain her freedom, Paige will have to learn something of his mind and his own mysterious motives.
Somehow, I missed out on all the hype surrounding this book last year. Apparently, everyone was talking about this book before it even came out and I was unaware.
Even without being aware of how highly anticipated this book was I saw it on the New Fiction shelf in Barnes and Noble last year and knew I just had to have it. The cover is beautiful and the story was intriguing. Most importantly, I thought this book was different than what has been popular as of yet.
Sure, you can call it dystopian, but that's not entirely what the focus of this novel is.
Imagine if England went into a sort of a Berlin Wall situation. The country shuts itself off from others and suppresses one particular people group: people with supernatural abilities.
The people pushed to hide themselves in plain sight have created a richly diverse and strangely appealing underworld of 'mime crime' or the crime of exercising an unnatural ability.
I can't talk about much of the plot without getting into the meat of the story and giving things away. But I have to say that I loved this story and I will be reading the entirety of the series.
What I do want to tell you about this book is that it is thick! There are mixed reviews surrounding The Bone Season and what I read the most is how slow, repetitive, or thick the story is. All of these remarks are true, but necessary. Samantha Shannon is creating an entirely new story here. She's not building on any previous imaginative landscapes from other authors. This is magical, but it's not like Harry Potter in any way. This is a dystopian, but it's not The Hunger Games, and this could be categorized as young adult, but the characters are far more mature and dealing with far more mature circumstances than some adults may be comfortable with. This is also going to be a seven book series so there is a lot of groundwork she needs to set before you get into the story.
The book has a glossary. That should tell you one thing right there. If that scares you then proceed with caution. I think that was the most difficult part of the book for me. I have trouble reading when I don't understand the slang or lexicon of a novel. I was thankful for the glossary, but sometimes I just skipped over made-up words I didn't know.
With that being said, if you hammer through the beginning of the book the latter half is packed with action! Paige is a kick-ass heroine. She has very real emotions and real reactions. I really connected with her because her angry, sarcastic, and intelligent actions just make sense.
There are so many different characters that I can't wait to learn more about. How she's going to turn this story into SEVEN novels I'm not entirely sure of, but I am excited!
Ultimately, this book is so different that I think you really have to decide for yourself whether it is for you or not.
I know this review is sort of vague, but go into it knowing this: the ride gets wild. Read the beginning with the mindset of building a foundation.
The story really is a thriller and will have you on the edge of your seat til the end. I wasn't aware of how sucked into the book I was until I was reading while in the car and my fiance asked, "What happened?" I looked up and looked confused only to realize I had been saying my thoughts of 'oh no! Oh my god! No!' out loud!
I would recommend this book for fans of The Mortal Instruments series.
Check out The Bone Season: Here
Check out Samantha Shannon: Here
Follow me on Goodreads: Here