I bought some books so I thought I'd do a book haul!
I don't want to do just any book haul though! I want to share my first impressions with these books. It might be interesting and it might be a little weird. I'll warn you now that my brain is a weird place.
Click the video below to watch my first impressions and read the descriptions below to see what books I picked up!
I sweat guys, I'm going to get better at this video stuff I just gotta figure all this editing nonsense!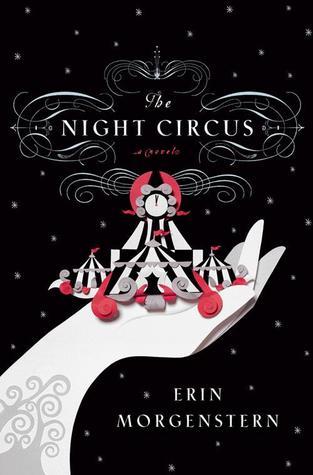 The Night Circus by Erin Morgenstern
The circus arrives without warning. No announcements precede it. It is simply there, when yesterday it was not. Within the black-and-white striped canvas tents is an utterly unique experience full of breathtaking amazements. It is called Le Cirque des Rêves, and it is only open at night. 

But behind the scenes, a fierce competition is underway: a duel between two young magicians, Celia and Marco, who have been trained since childhood expressly for this purpose by their mercurial instructors. Unbeknownst to them both, this is a game in which only one can be left standing. Despite the high stakes, Celia and Marco soon tumble headfirst into love, setting off a domino effect of dangerous consequences, and leaving the lives of everyone, from the performers to the patrons, hanging in the balance. (Goodreads)
My thoughts: I've heard so many good things about this book! It's fantasy, magical, and such a unique idea. I'm really excited to read it! The Night Circus, it's a circus at night! Should be fun, right? I love the book design, as well! So beautiful! I'm a sucker for a pretty book!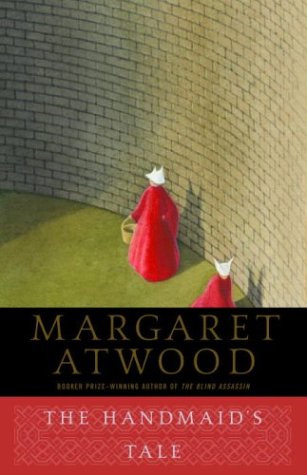 The Handmaid's Tale by Margaret Atwood
Offred is a Handmaid in the Republic of Gilead. She may leave the home of the Commander and his wife once a day to walk to food markets whose signs are now pictures instead of words because women are no longer allowed to read. She must lie on her back once a month and pray that the Commander makes her pregnant, because in an age of declining births, Offred and the other Handmaids are valued only if their ovaries are viable. Offred can remember the years before, when she lived and made love with her husband, Luke; when she played with and protected her daughter; when she had a job, money of her own, and access to knowledge. But all of that is gone now. (Goodreads)
My Thoughts: Before reading the synopsis I thought: maids in silly hats. After reading the synopsis I thought: um…I'm scared. I love dystopians though and this one sounds like quite the turn from the traditional. I hope it is good. I've heard that this is the kind of book that makes you think. I'm looking forward to that.
On the alien, sunless planet they call Eden, the 532 members of the Family shelter beneath the light and warmth of the Forest's lantern trees. Beyond the Forest lie the mountains of the Snowy Dark and a cold so bitter and a night so profound that no man has ever crossed it. 

The Oldest among the Family recount legends of a world where light came from the sky, where men and women made boats that could cross the stars. These ships brought us here, the Oldest say—and the Family must only wait for the travelers to return. 

But young John Redlantern will break the laws of Eden, shatter the Family and change history. He will abandon the old ways, venture into the Dark…and discover the truth about their world. (Goodreads)
My thoughts: Aliens! Aliens that aren't aliens? Wait- what? This kind of reminds me of Ray Bradbury's Martian Chronicles. I hope this doesn't weird me out as much as that did. I only read an excerpt from Bradbury's and I was freaked out so let's hope for better results with this! I'm stepping out of my comfort zone with this one and into sci-fi!
The Lion, The Witch and the Wardrobe by C.S. Lewis, Pauline Baynes (Illustrator)
When Peter, Susan, Edmund and Lucy are sent to stay with a kind professor who lives in the country, they can hardly imagine the extraordinary adventure that awaits them.
It all begins one rainy summer day when the children explore the Professor's rambling old house. When they come across a room with an old wardrobe in the corner, Lucy immediately opens the door and gets inside. To her amazement, she suddenly finds herself standing in the clearing of a wood on a winter afternoon, with snowflakes falling through the air. Lucy has found Narnia, a magical land of Fauns and Centaurs, Nymphs and Talking Animals — and the beautiful but evil White Witch, who has held the country in eternal winter for a hundred years. (Goodreads)
My Thoughts: A classic and I love the pictures!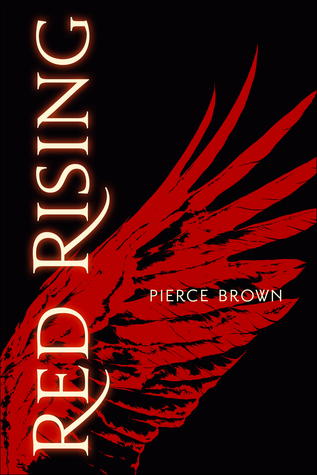 Red Rising by Pierce Brown
The war begins…
Darrow is a Helldiver, one of a thousand men and women who live in the vast caves beneath the surface of Mars. Generations of Helldivers have spent their lives toiling to mine the precious elements that will allow the planet to be terraformed. Just knowing that one day people will be able to walk the surface of the planet is enough to justify their sacrifice. The Earth is dying, and Darrow and his people are the only hope humanity has left.
Until the day Darrow learns that it is all a lie. Mars is habitable – and indeed has been inhabited for generations by a class of people calling themselves the Golds. The Golds regard Darrow and his fellows as slave labour, to be exploited and worked to death without a second thought.
With the help of a mysterious group of rebels, Darrow disguises himself as a Gold and infiltrates their command school, intent on taking down his oppressors from the inside.
But the command school is a battlefield. And Darrow isn't the only student with an agenda.. (Goodreads)
My Thoughts: If you haven't figured out by now that I love dystopian novels then you need to check yourself! I have been yearning for a male protagonist for some time. I think this will deliver. I like the caste system being colored coordinated. I love the idea of sci-fi being mixed in. I hope this is as original a concept as it sounds!
That's my book haul! Have you read any of these books? Want to read any of these books? Let me know in the comments! I can't wait to reeeeaaaad!